DRUM Lessons In Canoga Park
Serving Canoga Park and surrounding areas, we offer drum lessons to students of all ages, ranging from beginners to intermediates and advanced drummers.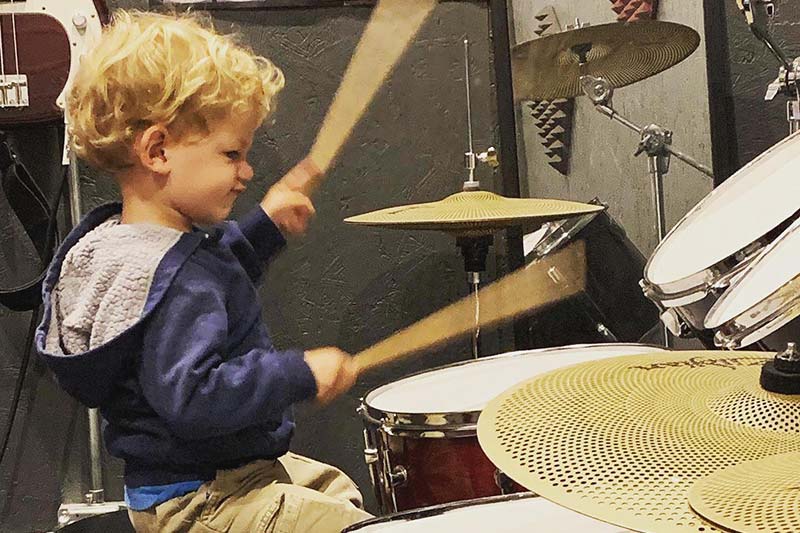 Here at SoundCheck Music School, we offer a variety of tuition packages and tailor-made lessons from our industry-level instructors to ensure the unique musical needs of our students are met above and beyond!
Beginners learn on the kit from their very first lesson and become immersed in the basic core curriculum. From the proper form, reading drum notation, and forming their own style, we keep lessons engaging and efficient so that students can excel in their craft with one-on-one sessions between student and instructor.
Once students reach a certain level of skill and proficiency, we welcome our aspiring musicians to join the band program in which students participate in paired band rehearsals and live performances with SoundCheck Music School bands.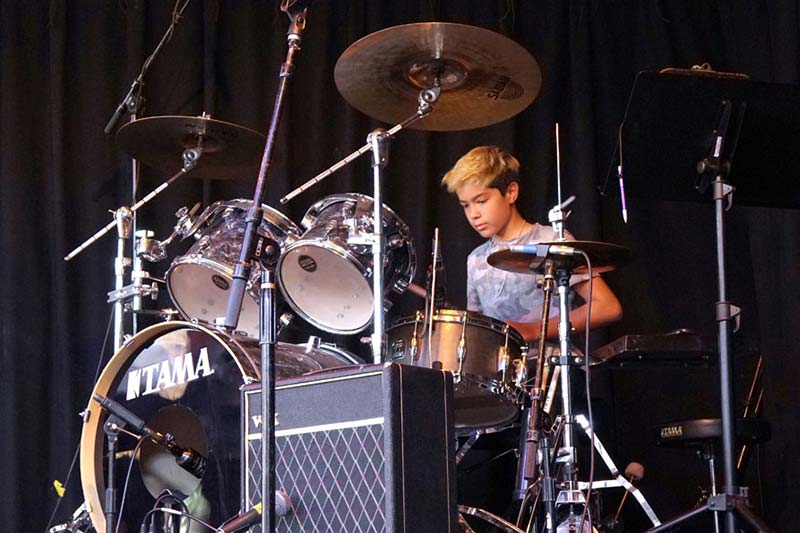 Advanced 
Drummer Classes
In addition to music theory and technique, we challenge our advanced drummers with reading music, composition, and improvisation. We ensure that the curriculum is designed to meet the goals and needs of each student.
Band membership is open to all students who are interested in performing in live school performances.
To learn more about our live music experience and band program, click here 
With our program, you learn your instrument by playing songs you love by your favorite artists! Our instructors are trained studio recording artists and performing musicians. They will teach you at your own pace while helping you master your instrument when taking drum lessons in Canoga Park.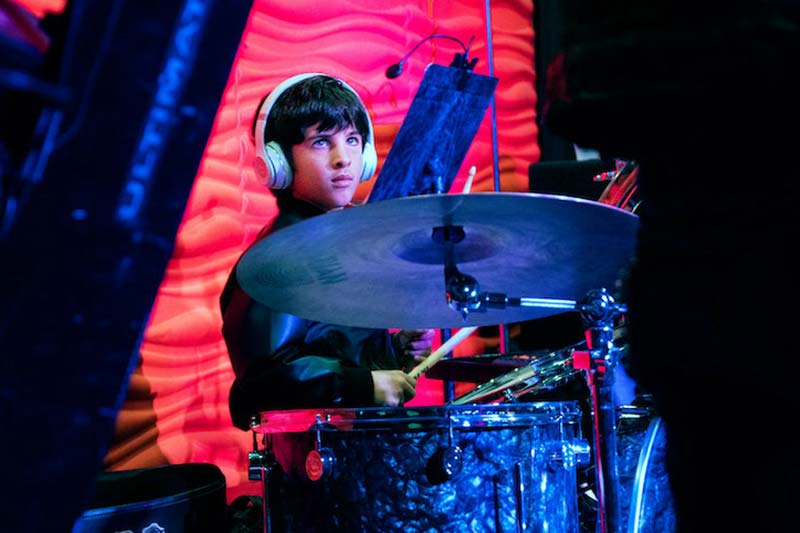 We put the health and safety of our students first. In addition to our private in-person lessons, we also offer online sessions for our musicians who prefer remote learning via zoom. Students enrolled in online courses will receive the same curriculum, exercises, and encouragement as in-person students.
Live Drumming Performances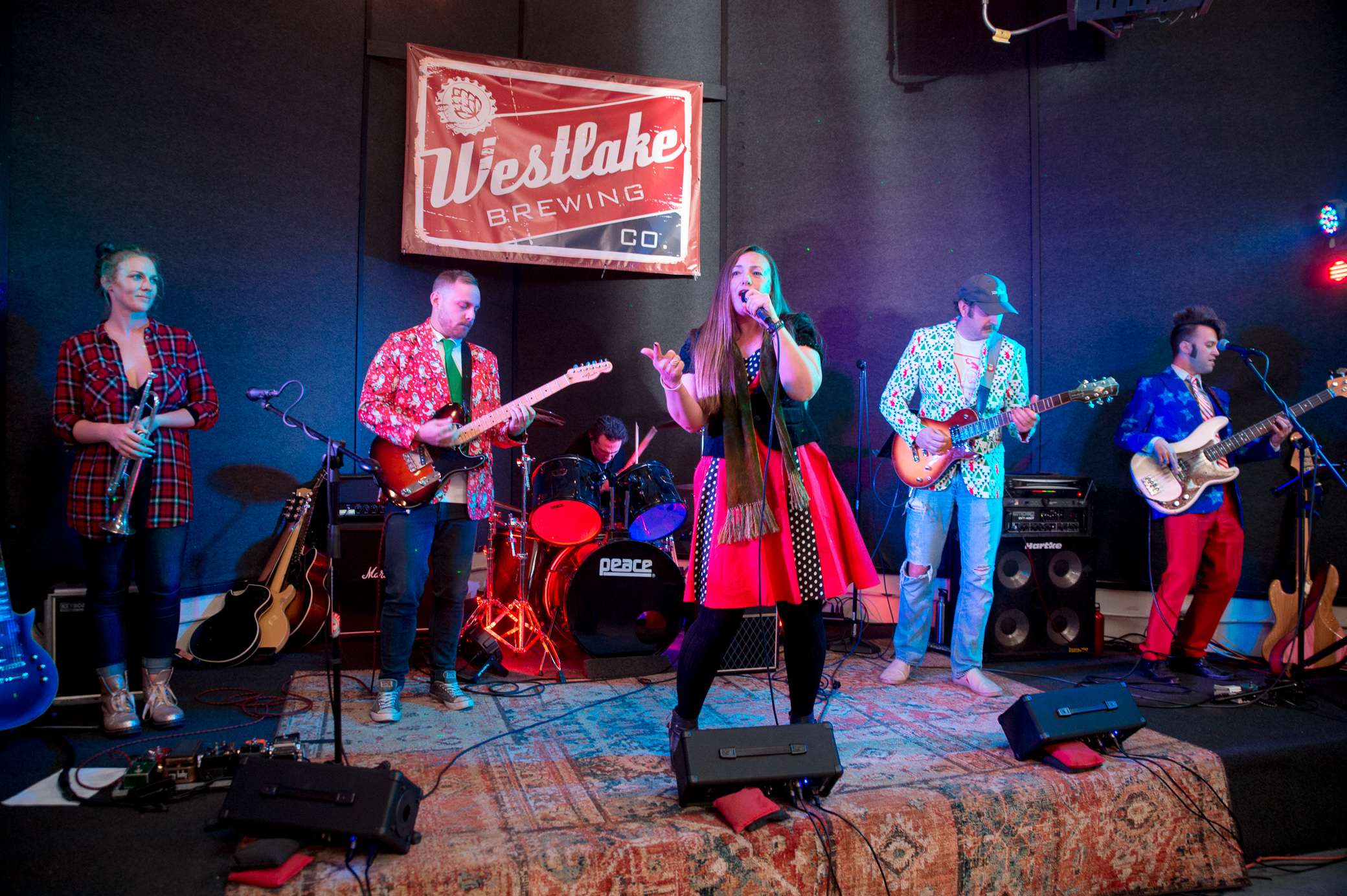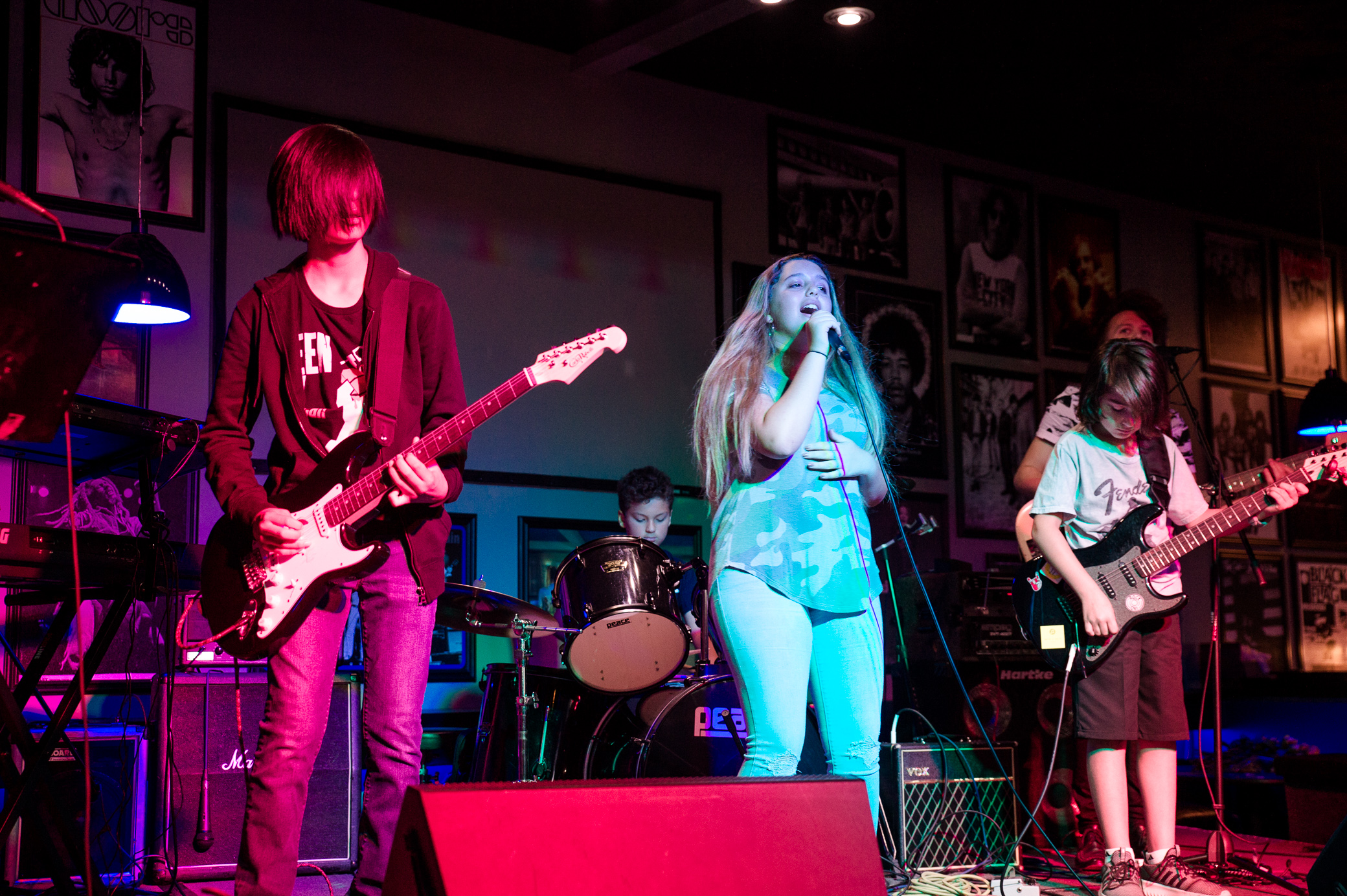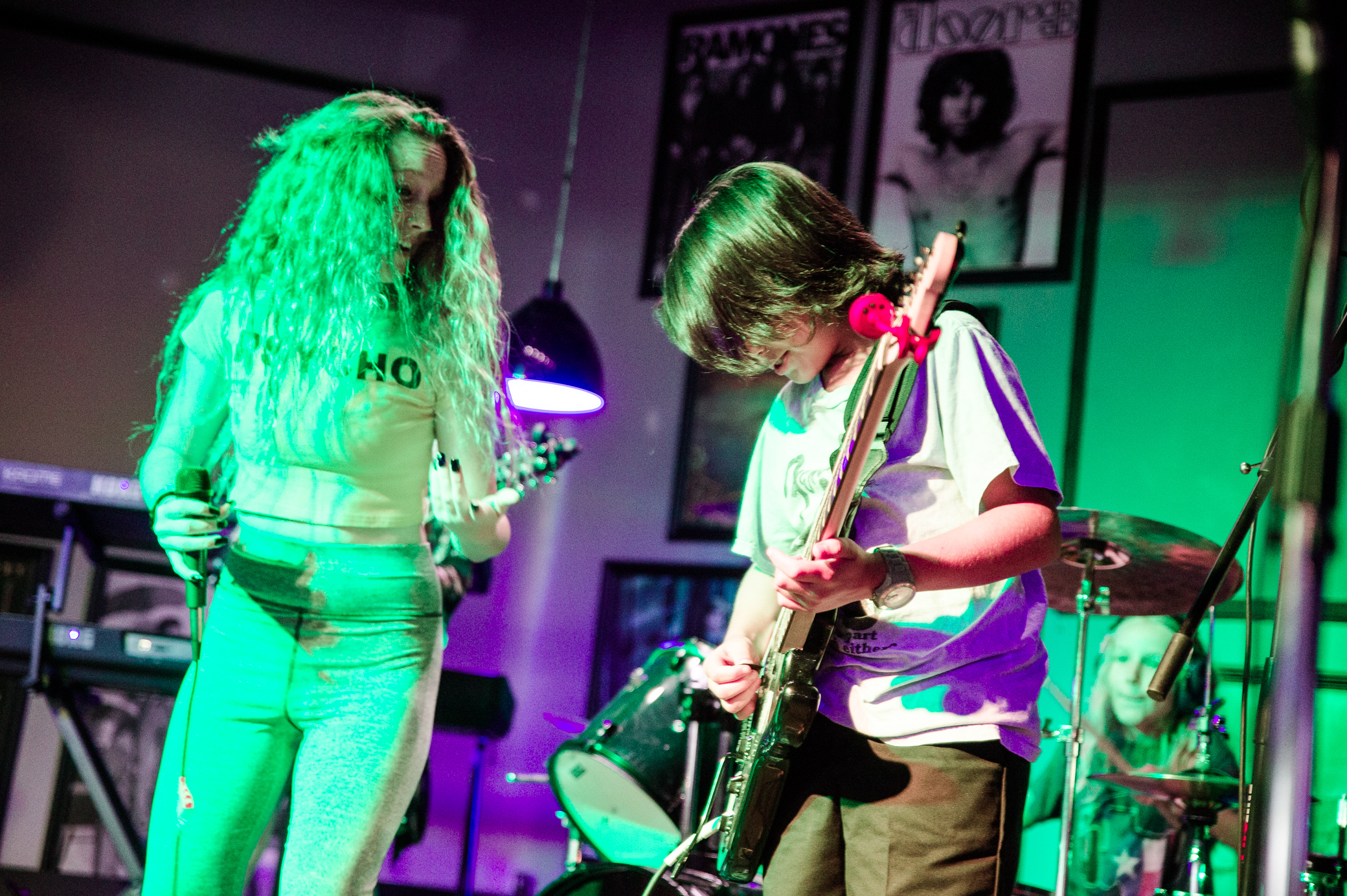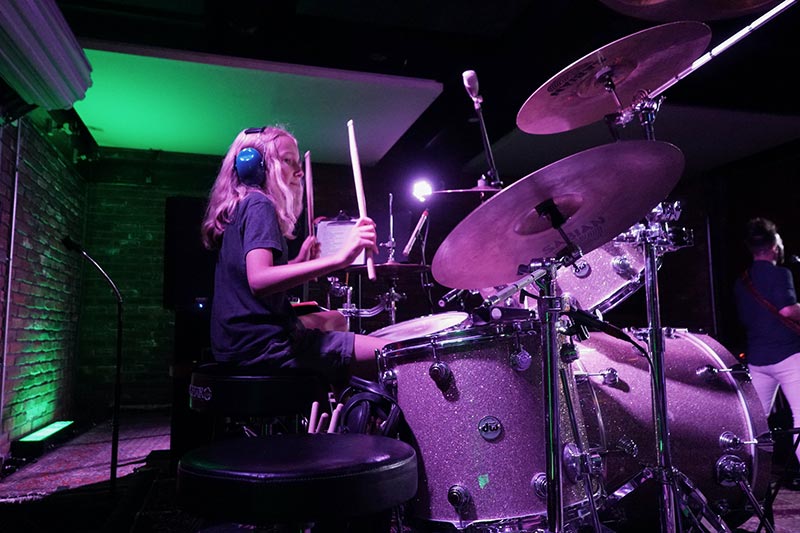 What are the Prices & Lengths of Drum Lessons?
Our rates for Drum lessons can change over time, please call us for current rates. You can choose between lessons of 30, 45, or 60 minutes in length. We also offer monthly or pay-as-you-go packages.
What's the best age for children to start learning Drums?
While we do not have a strict age requirement, our recommendation is for children to start learning drums at seven years or older. If your child is younger than seven, let's discuss whether they're ready to start drum lessons in Canoga Park.
Can 4-year-olds take drum lessons at SoundCheck?
We recommend children of 7 years of age or older begin drum lessons, but If you feel that your little musician is ready, we'd be more than happy to help them begin lessons and their musical journey at any age.
Please call us so we can discuss what's best for your child and arrange a discounted trial lesson. We offer a 50% discount for as many instruments and teachers as your child would like to try so parents can observe what works best! No commitments or obligations, for we want them to be as comfortable and confident in their decision as possible.
Will SoundCheck Music School provide drums for you or should you have your own?
We can provide our students with a drum kit for in-lesson use, however, it is important to note that practice makes progress. We recommend that our students and parents invest in a kit at home to help retain materials learned during lessons and promote good practice habits. To learn more about starter package options, please do not hesitate to give us a call.
How long before I can expect to get good at playing the drums?
The amount of practice you do, whether you have a natural aptitude for drumming, how fruitful your practice sessions are, and your commitment to a regular practice schedule will determine if you succeed.
We believe that progression is directly correlated to the amount of time and effort that is put into practice. We don't want practice time to feel like a burden to our musicians, so we encourage students to develop a daily practice regime alongside their instructors to fabricate a schedule that works best for them and maintains an uplifting and engaging environment centered around assigned materials.
Does SoundCheck offer private drum lessons in Canoga Park?
Absolutely! All of our lessons are one-on-one between student and instructor. Each course is catered to the aspirations and needs of every unique student. 
Can SoundCheck accommodate remote students?
You are more than welcome to choose between remote classes and in-person lessons, and even alternate between them at a given moment for any reason at all! Our online students will get to work with industry professionals just as if it were in person!
Our mission is to support musicians around our community and give them endless opportunities to utilize their gifts and skills when taking drum lessons in Canoga Park.
Are all students required to participate in the band program and live performances?
Before joining the band program and live show experience, we require our students to be a specific level of skills and proficiency first.
Nonetheless, we encourage our students to take advantage of the opportunities we present to them as soon as possible, for we believe playing alongside peers is a transformative experience when taking drum lessons in Canoga Park.