DRUM Lessons In Tarzana
Ready to discover the art of playing drums? Our drum lessons in Tarzana are tailored to accommodate individuals of various age groups and skill levels, ranging from absolute beginners to seasoned players. Whether your goal is performing in a band, improving your drumming abilities, or purely seeking the joy of learning, our customized drum lessons offer the perfect opportunity.
Beginner Drum Lessons In Tarzana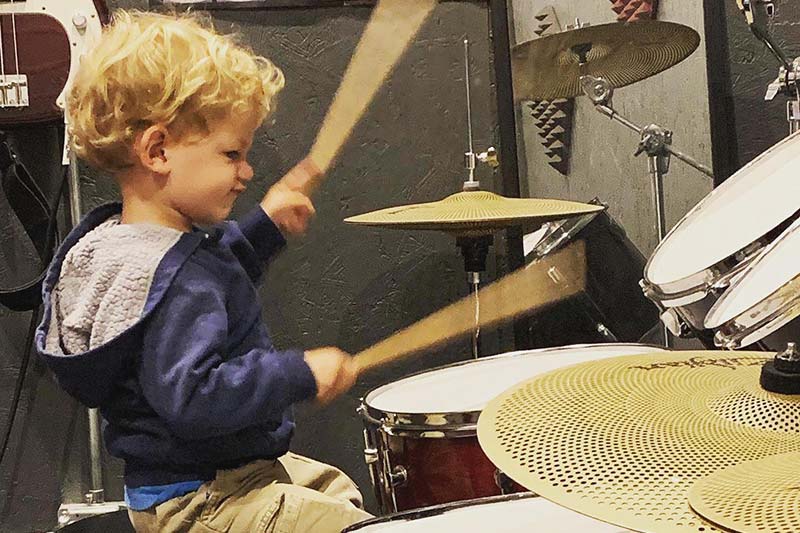 At SoundCheck Music School, we offer a distinctive approach to beginner drum lessons that require no prior experience. During the very first lesson, students will have the opportunity to sit behind the drum set and learn the fundamentals of drumming with the ability to learn solos or fills for any song of their choice.
Our drum lessons in Tarzana, at SoundCheck Music School, focus on teaching students the essentials of drumming, such as proper form, drumstick grip, sitting position, metronome use, reading drum notation, various drumming styles, techniques, and more.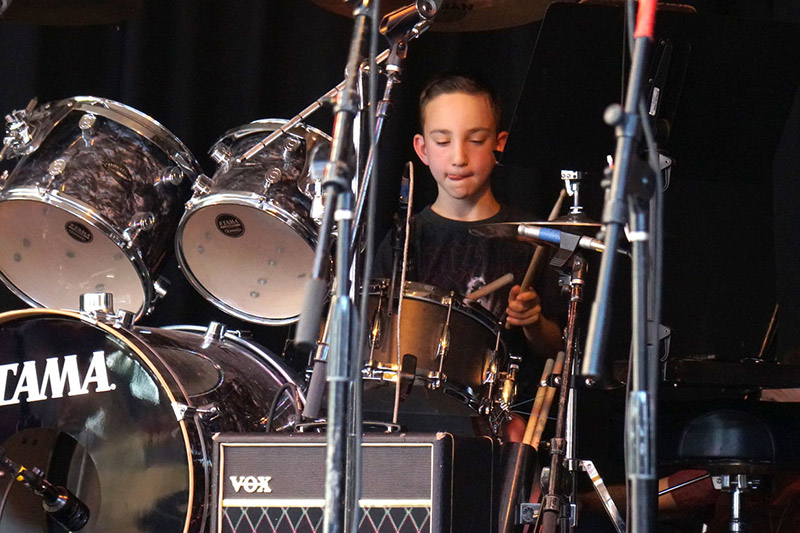 Drum Courses for Advanced Players
At SoundCheck Music School, we offer advanced drumming training specifically designed for experienced players. Our comprehensive program encompasses music theory, technique, improvisation, music reading, and composition. However, we understand the importance of individualized instruction, and thus we tailor our teaching approach to meet the unique needs of each student.
What sets our instructors apart is not only their extensive musical experience but also their expertise in studio recording. They collaborate with students at a suitable pace of learning that assists them in achieving their personal goals. Our program distinguishes itself by allowing students to master their instrument through the performance of their favorite songs by artists they love.
We extend an open invitation to all students to participate in our band program and experience the thrill of performing live in front of an audience. We strongly encourage students at this stage to join our band program, where they can engage in musical collaboration with their peers on stage.
Click here for more information.
In-Person & Online Drum Lessons in Tarzana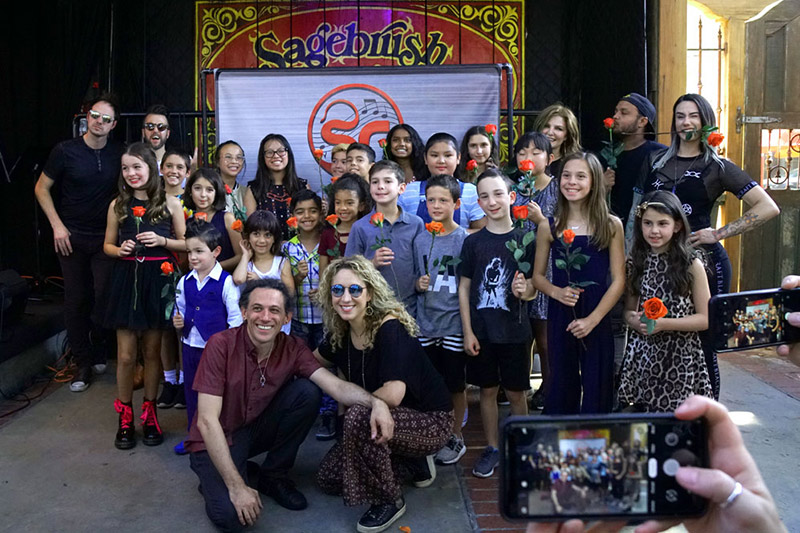 For the safety and convenience of our students and their families, we offer both in-person and online drum lessons. Our online classes follow the same curriculum as our in-person lessons. Check out our music teachers and enroll today!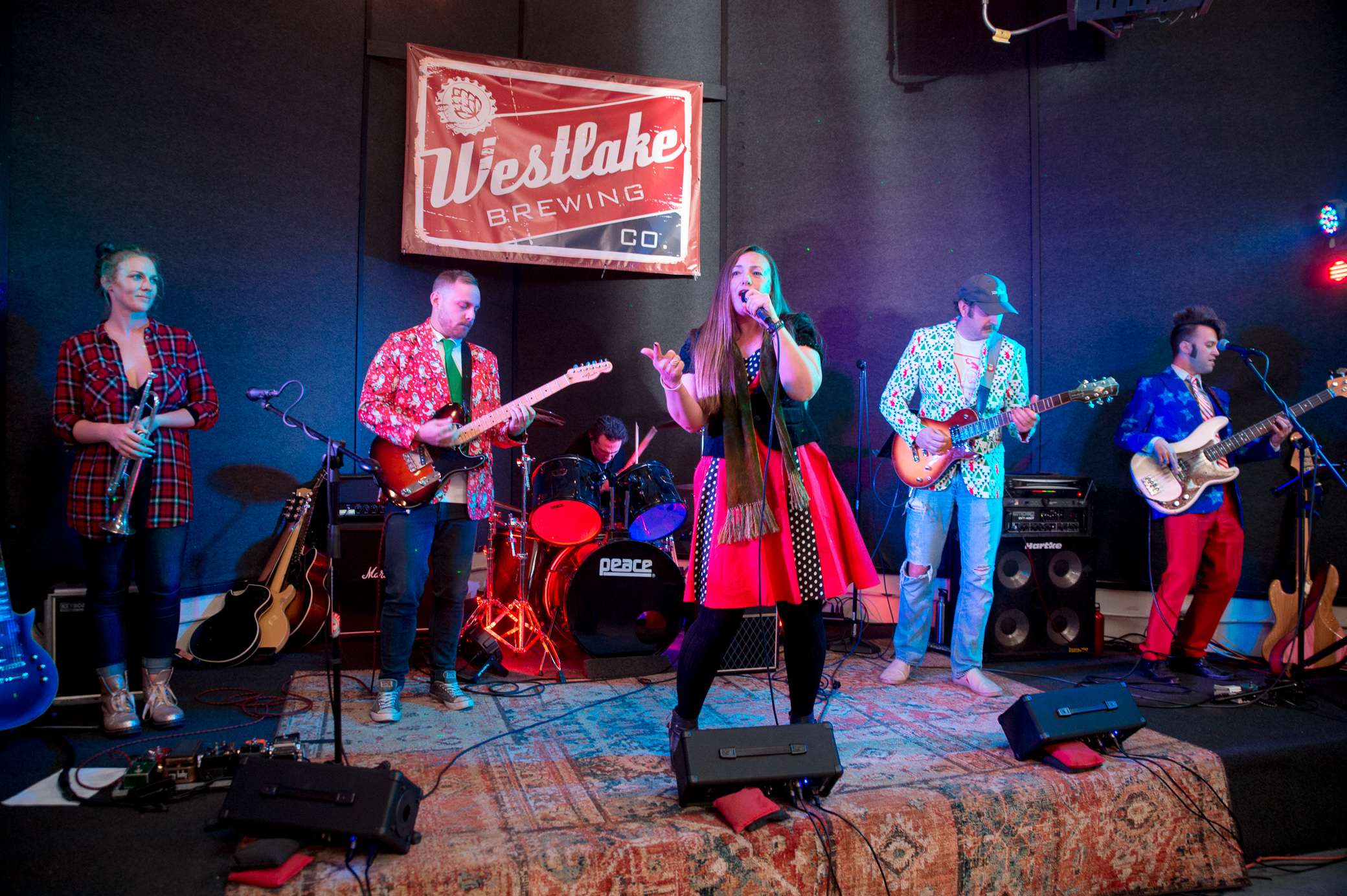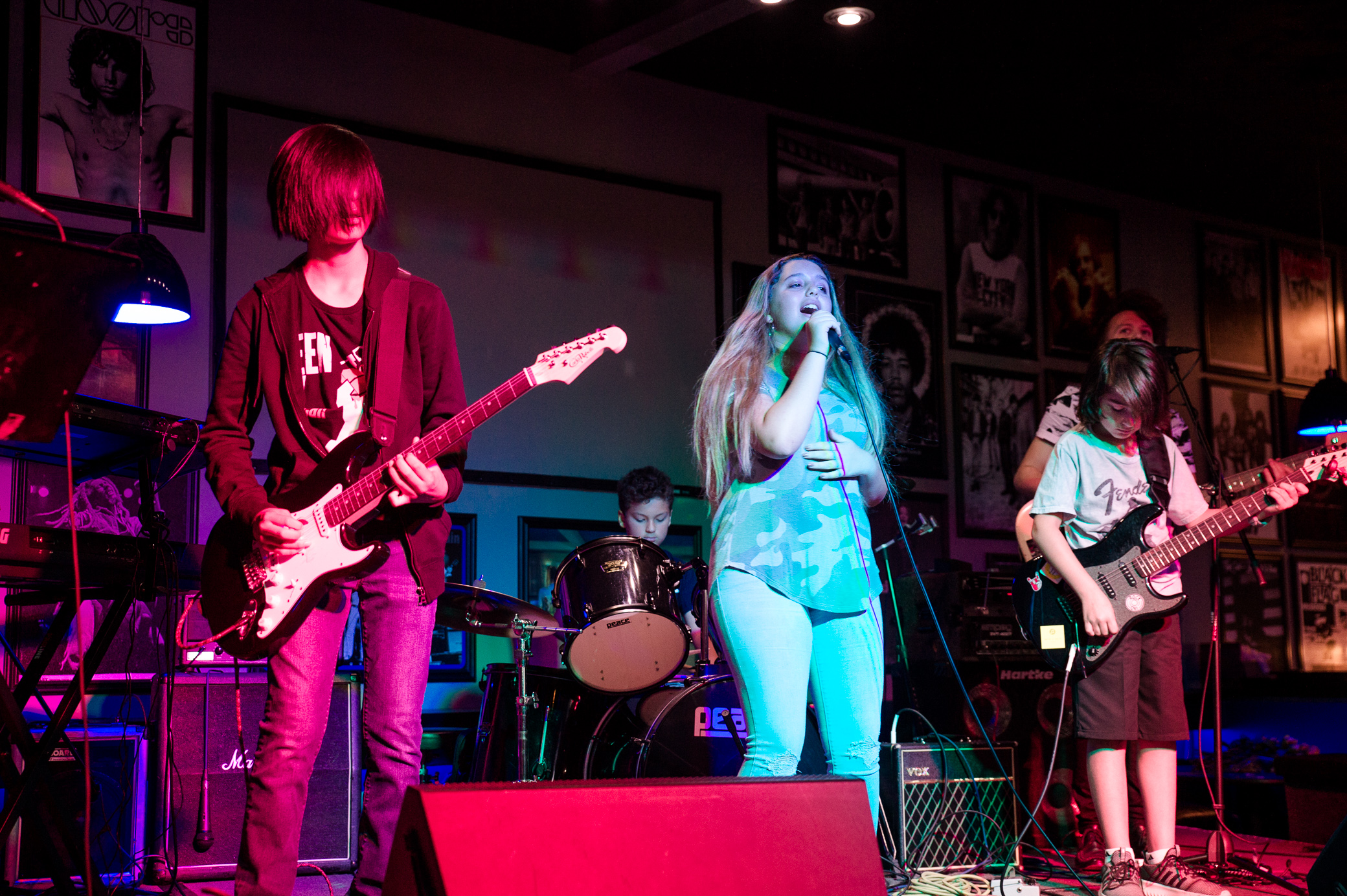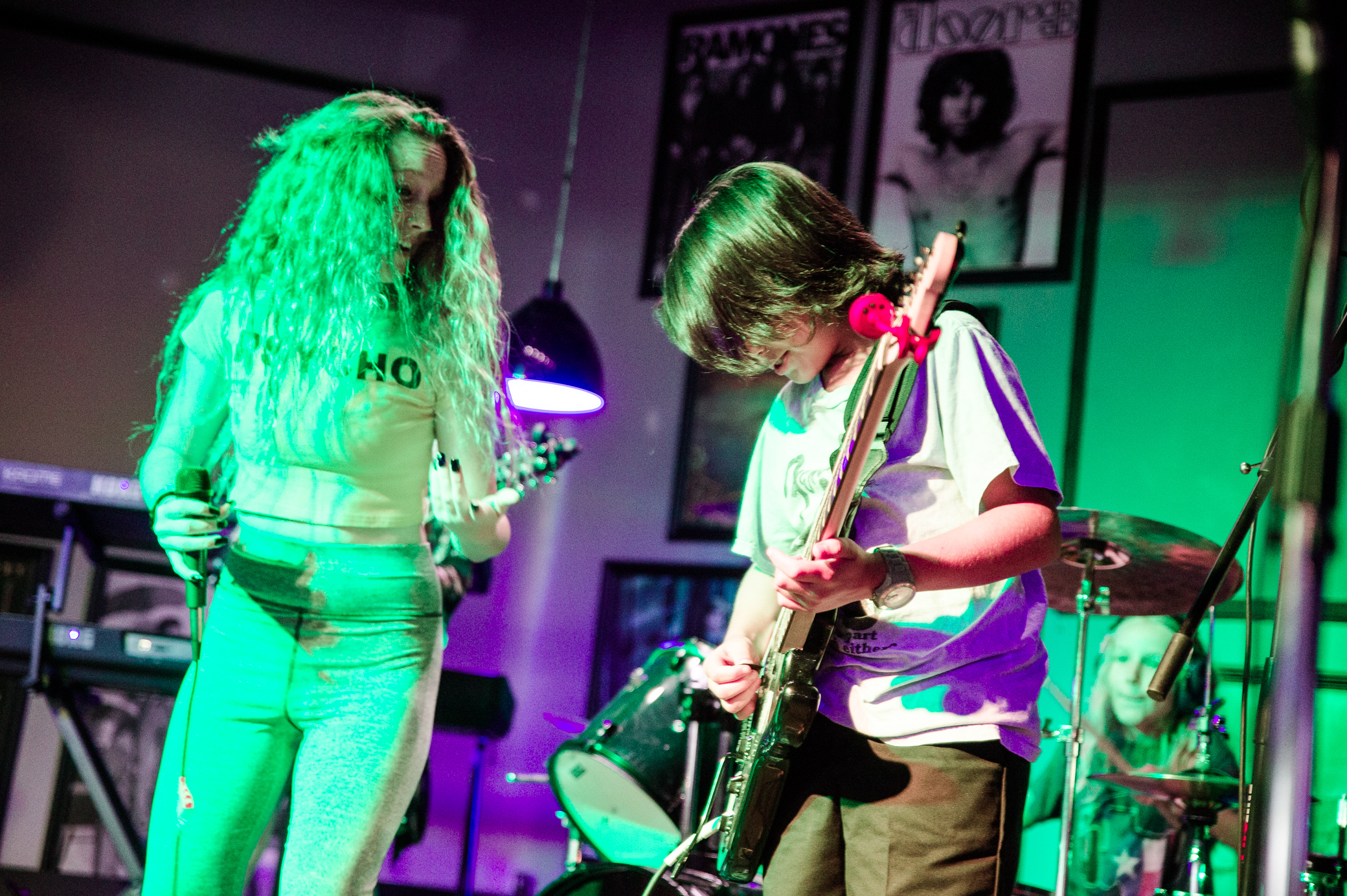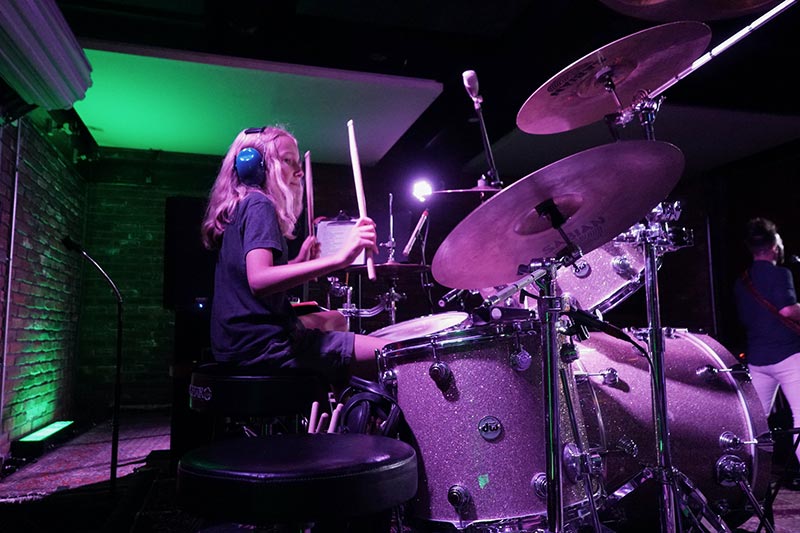 Are SoundCheck lessons available for young children, such as four-year-olds?
At SoundCheck Music School, we firmly believe that music education should be accessible to individuals of all ages. While we typically recommend starting drum lessons at the age of 7 or older, we understand that each child is unique, and we are more than willing to discuss with you your child's readiness. Our aim is to help you make an informed decision before enrolling them in our program.
If you are considering drum lessons for your child, we encourage you to reach out to explore the available options. To help with the decision-making process, we offer discounted trial lessons, so your child to experience drumming firsthand and assess their readiness. With our trial lessons, you can take advantage of our 50% discount on as many teachers and instruments as you want, without any obligations attached.
Do you need your own set or are drums provided by SoundCheck Music School for the lessons?
Although having your own drum set is recommended, we do offer drums for use during lessons if required. It's worth noting that consistent practice at home is vital for optimal progress. We are more than happy to discuss instrument starter packages with you, so please feel free to reach out to us!
How long does it usually take to become skilled in drumming?
The rate of progress in drumming education can vary and depends on factors such as practice time, innate talent, and the effectiveness of practice sessions. Consistency and focused practice are key to advancing, but it's important to avoid excessive pressure, as it can hinder progress. At SoundCheck Music School, we emphasize the importance of personalized instruction from experienced drum instructors to promote growth and ensure a rewarding drumming journey. Our instructors work closely with each student to develop a practice schedule that suits their individual needs and goals.
Are SoundCheck's drum lessons in Tarzana provide private instruction?
Certainly! Our drum lessons in Tarzana are individualized and customized, providing personalized instruction from skilled drum instructors. We adapt each session to meet the specific needs and goals of the student, ensuring a tailored learning experience.
Are online drum classes available at SoundCheck Music School?
SoundCheck Music School offers the flexibility to opt for either in-person classes or online drum lessons conducted via Zoom. Our instructors are dedicated to helping you enhance your skills, master crucial musical concepts, and participate in our Live Band Program alongside fellow musicians.
Furthermore, if you prefer a combination of both formats, we are more than happy to accommodate your preferences. We can arrange a customized schedule that incorporates a mix of online and in-person lessons to cater to your specific needs and availability.
Is participation in the live band and performance program mandatory for all students?
SoundCheck Music School has specific skill level prerequisites for students to participate in live performances or join bands. However, we strive to involve students in live performances and bands as soon as they are ready. We firmly believe that playing music with fellow musicians is a priceless learning opportunity that should not be overlooked when opting for drum lessons in Tarzana.