Guitar Lessons in Tarzana
If you have been searching far and wide for guitar lessons, look no further than SoundCheck Music School in Tarzana. From beginner students to intermediate level and aspiring advanced players, we have learning experiences crafted for every growing musician's needs.
.
Beginner GUITAR LESSONs In Tarzana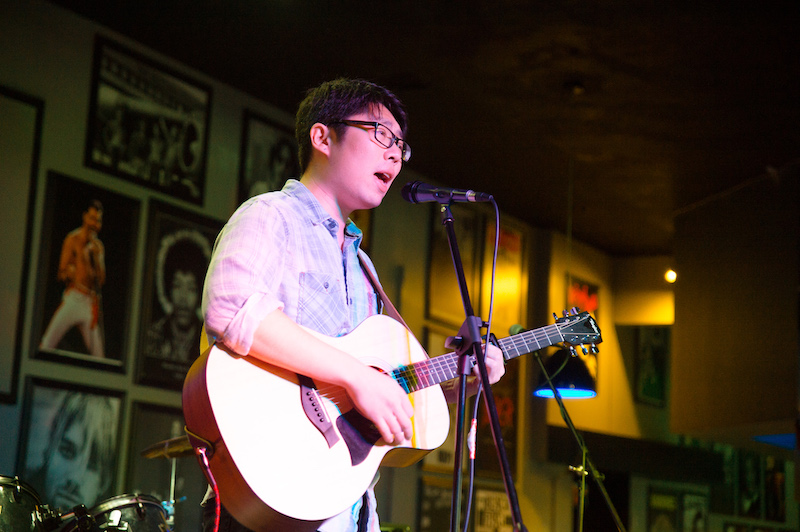 Do your kids want to play guitar but you're not sure where to find a teacher? Or maybe you have always wished you could play the guitar yourself? Well, we've got you covered at SoundCheck Music School.
 We help aspiring musicians build their skills from the ground up with guidance from professional and industry-level instructors. Each class is tailor-made to provide the student with engaging materials, music fundamentals, and an uplifting environment all adjusted to the individual's personal pace. 
 Providing young musicians with the best learning experience while fostering their own distinctive identities as artists is the sole mission of SoundCheck Music School's guitar lessons in Tarzana.
.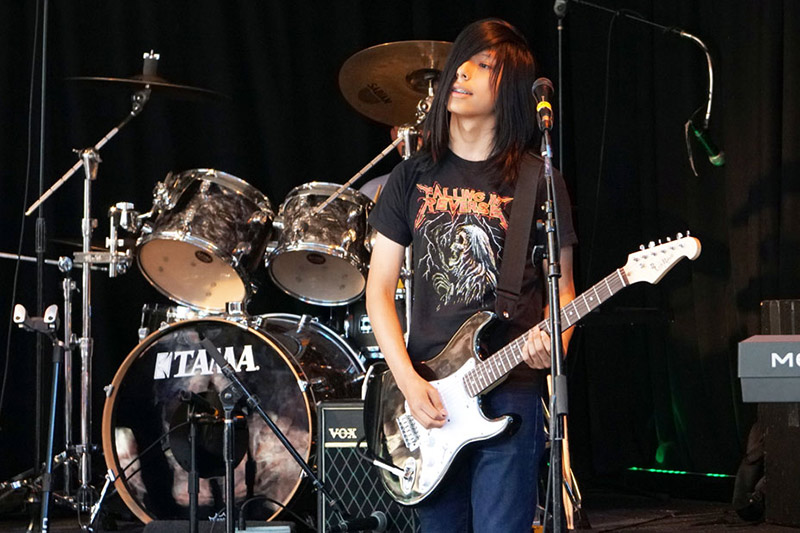 Guitar Lessons in Tarzana for Advanced Players
Already have prior experience playing guitar, but want to raise your musicianship to the next level? If this sounds like you, our advanced guitar lessons in Tarzana may just be the perfect challenge! Advanced players will pursue fine-tuning skill sets, develop a unique sound style, and be encouraged to participate in live performances with fellow musicians within this program selection.
If you would like to view our previous performances, click here: Videos – SoundCheck Music School
ONLINE GUITAR LESSONS NEAr Tarzana & Surrounding Cities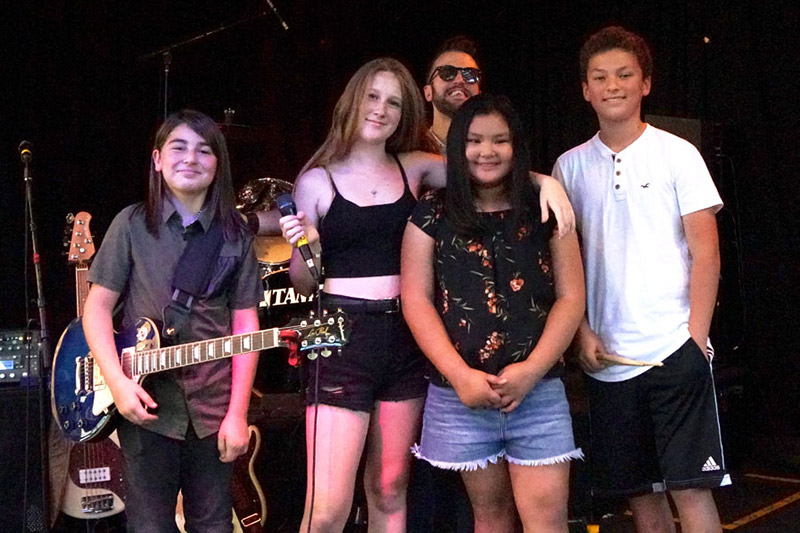 The safety and well-being of our students at SoundCheck Music School are our top priority. For any reason at all, we offer virtual sessions made available to you via Zoom, so you can still learn constructive guitar courses from a remote location.
Try Our Live Band Program with Guitar lessons in Tarzana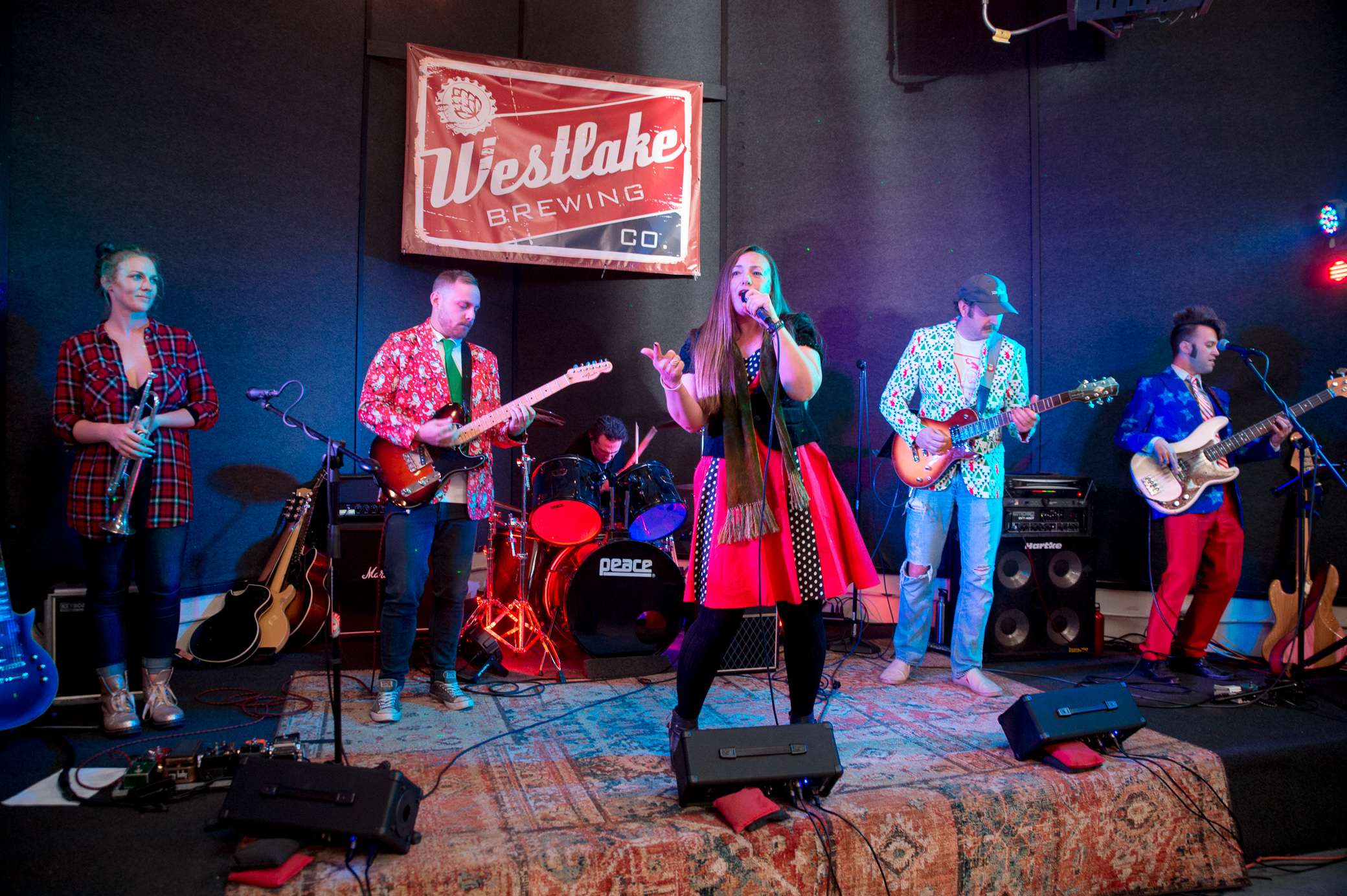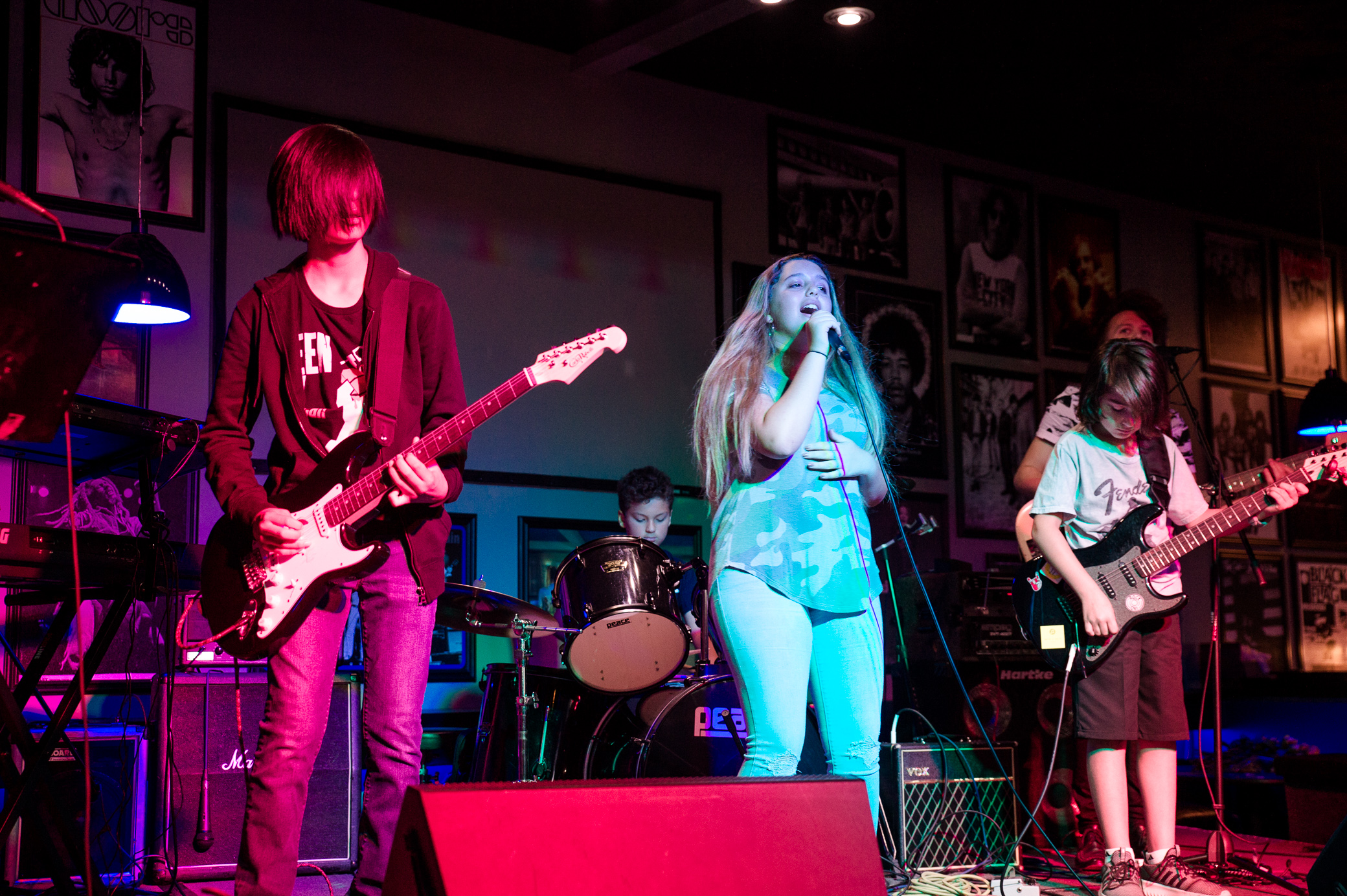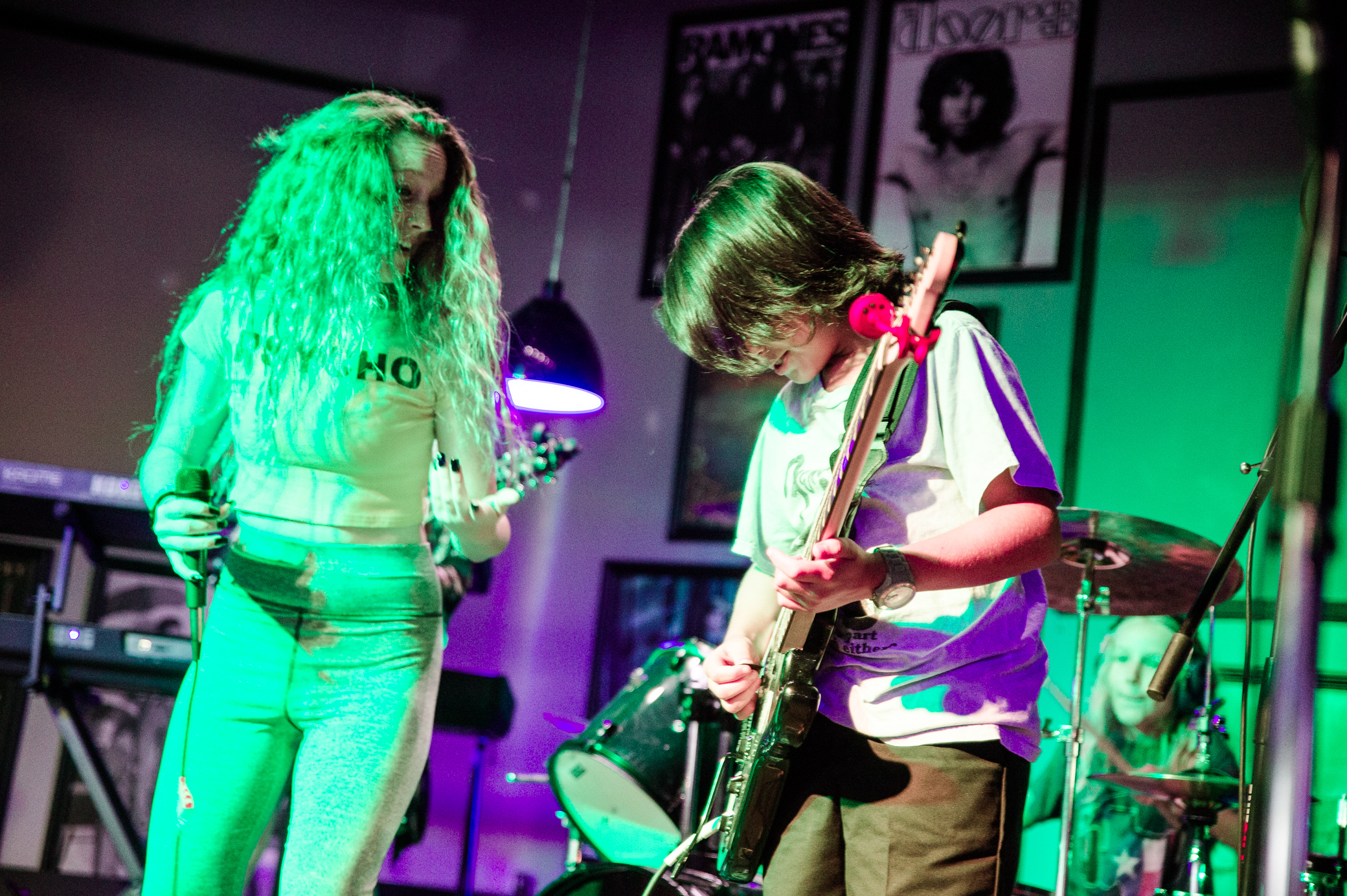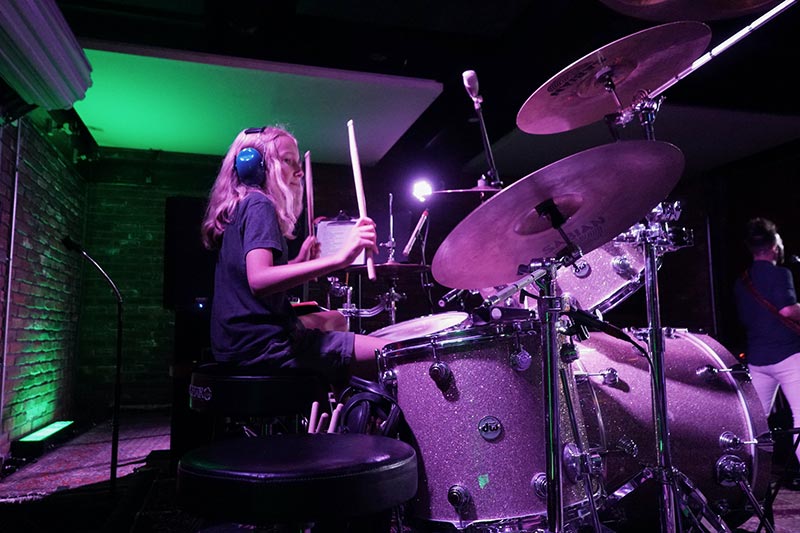 How much do guitar lessons cost at SoundCheck?
Our rates range from $35 – $75 per session, or $152 – $282 per month,
Depending on the duration of lessons and tuition package selection.
We offer 30, 45, and 60-minute lessons, monthly payment options, or pay-as-you-go packages.
At what age is it best for children to begin learning guitar?
Our age range requirement is not strict; however, we suggest children begin learning guitar at 7 years of age or older.
Is a 4-year-old able to take guitar lessons with SoundCheck?
Although we suggest beginning lessons at 7 years of age, please give us a call and ask if lessons at this age are right for your child. We would love to help! Feel free to take advantage of our discounted trial lesson, where parents can observe and asses if the lessons are a good fit. A 50% discount is also applicable for as many instruments and teachers as you wish to trial, for there are no commitments.
.
Do students need to have their own guitars for lessons?
If you don't own an instrument, no need to worry, for we can lend one for in-lesson use only. But we must advise that practice at home is critical for visible improvement, so we suggest investing in an instrument of your own as well. Please reach out to our team if you have further questions, so we can discuss starter package details.
Should I begin learning on an acoustic or electric guitar?
There is no right answer here.
However, we find that learning on an electric guitar first can be easier, for the lower strings on the board require less finger strength; making it slightly more accessible for beginners.
How much time does it take to get comfortable with playing the guitar?
Progress is directly correlated with how much time and effort is invested, and that strongly applies to learning an instrument here at SoundCheck.
Daily practice routines, engaging in learning materials, and persistent motivation are essential disciplines to growing as a musician, especially when first starting out. Truly, the student will eventually reach a 30-minute or more ideal practice time easily if they are honestly enjoying the experience.
Are private lessons offered at SoundCheck?
Our guitar lessons in Tarzana are always one-on-one with our elite teachers. Every session is designed to meet the needs and desires of the student.
Do you offer music lessons online?
Not only do we offer one-on-one lessons in person, but we also have online lessons available to you via Zoom. These sessions can also be hybrid. If you regularly attend in-person lessons, you can schedule an online session for any reason. The same applies if your lessons are currently online and you would like to switch to in-person at no extra cost to you. Just let us know and we'll make it work!
Do all students participate in the band program and live shows at SoundCheck?
No, students are required to be at a certain level of experience before they are allowed to join bands or participate in live performances.
Furthermore, we encourage our students to get involved sooner in their musical journeys than later. Playing alongside peers is a transformative experience that we believe is necessary to promote the best learning experience alongside our guitar lessons in Tarzana.
50% Off Your First Lesson
20% Off Your First 2 Months
10% Off Family, Multi-Instrument, Military & Seniors