Guitar Lessons in West Hills
Looking for the best West Hills guitar lessons? Our guitar school West Hills location is the perfect place for beginner, intermediate, and advanced players. So, if you have been searching for guitar lessons near West Hills, look no further than SoundCheck Music School! Below is everything to know about our West Hills Guitar School.
Beginner Guitar Lessons In West Hills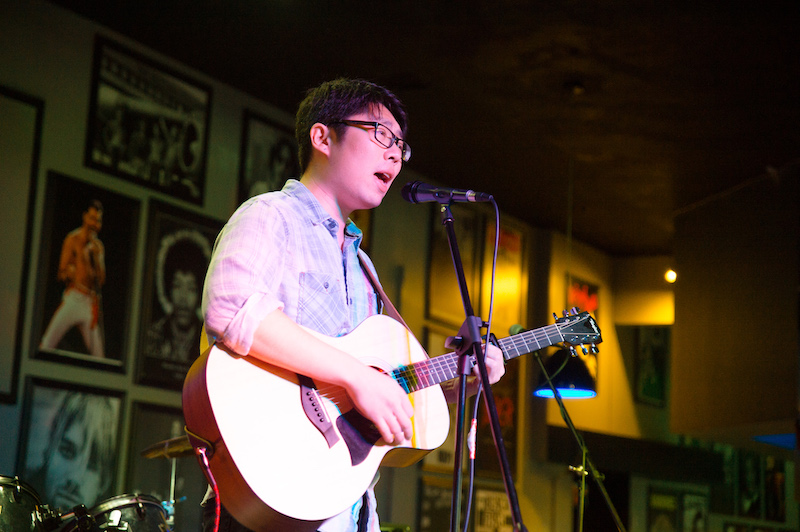 Looking for beginner guitar lessons near West Hills? We offer versatile lessons in-person or over live Zoom sessions! If you are new to playing the guitar, we can help you grow your skills. Even if you never have picked up a guitar before, our skilled teachers in the West Hills area are here to walk you through everything you need to know.
 Our individualized one-on-one lessons for beginner players have been designed to inspire your personal creativity and motivate you into pushing your skills forward in a positive way. At SoundCheck music school, you can move at a comfortable and consistent pace with lots of optimistic reinforcement and encouragement.
 At our music school, we make beginner guitar lessons fun. Instead of teaching you stale songs or compelling you to play the same boring riffs over and over again, we will teach you how to play your favorite songs on the guitar. You can choose to learn how to play the music that you already love!
 Our guitar teachers understand that lessons are just the beginning of your journey as a player. For this reason, we help you learn the fundamentals of both lead and rhythm guitar. We will also cover tuning, chords, scales, rhythm patterns, strumming patterns, timing, and arpeggios. If that isn't enough, we will help you develop your individual stage presence. We offer live band performance showcases to get you comfortable with playing in front of others!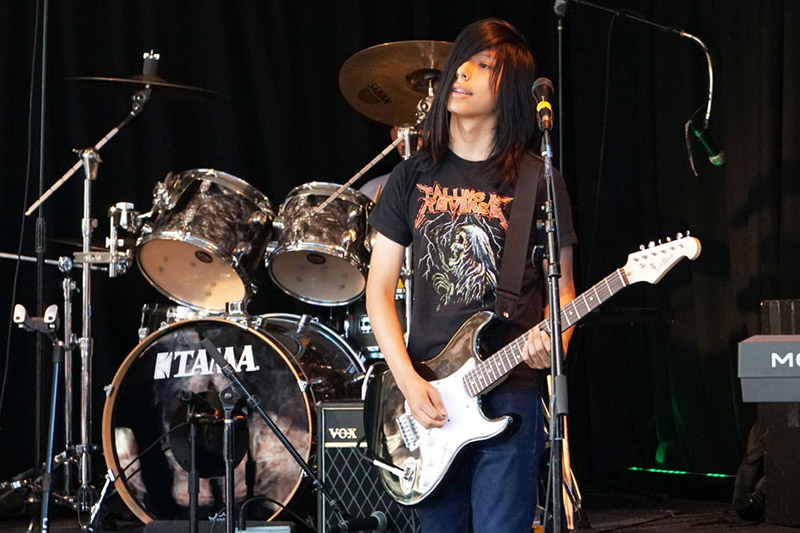 Advanced Guitar Lessons Near West Hills
Maybe, you aren't new to playing the guitar but still want to enhance your skills. If you have been looking for advanced guitar lessons in the West Hills area, we can accommodate your needs. Our Advanced Guitar Lessons West Hills Classes are designed to help you take the skills you already have and fine-tune them.
We want to help you ultimately master the guitar while also putting an emphasis on your live performance style and stage presence. Our Advanced Guitar Lessons can be implemented as a standalone component of your musical journey, or, added on as a part of your continuous skill-building regimen.
By the time you are an advanced student at SoundCheck Music School, you will have mastered many basic playing skills. At this point, our team will help you emphasize your stage presence and make it a focal part of your musical journey. You should definitely consider joining our Band Program! To find out more about our Live Performance Program.
ONLINE GUITAR SCHOOL in West Hills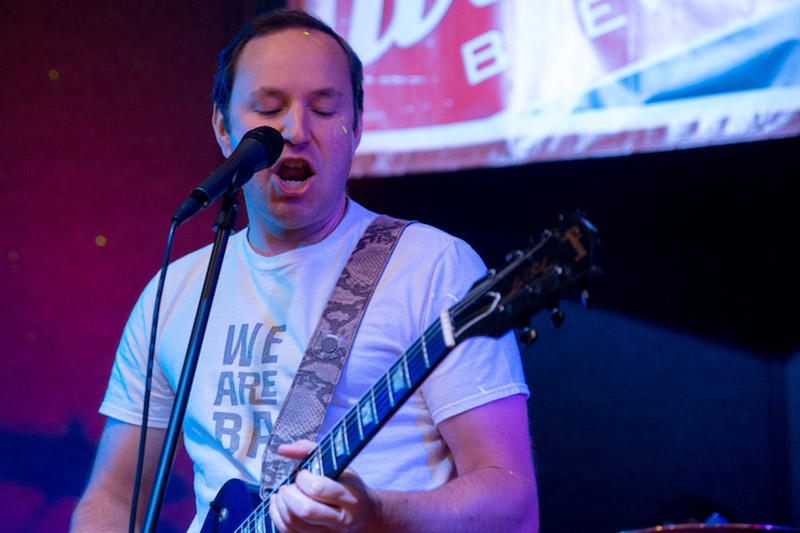 Health and wellness are of the highest importance to our team and we take your well-being and safety seriously. This is why at our West Hills music school, we now offer live online guitar lessons. If you are in the West Hills area or remotely joining our school, you can easily participate in these online instructional alternative classes.
 In addition to our in-person classes, our Online Guitar Lessons West Hills programs allow you to learn core skills and important musical principles with live, customized, one-to-one instruction sessions. To learn more about your available Online Guitar Lessons West Hills options, contact us!
Join the Live Band Program at The Most Popular Guitar School in West Hills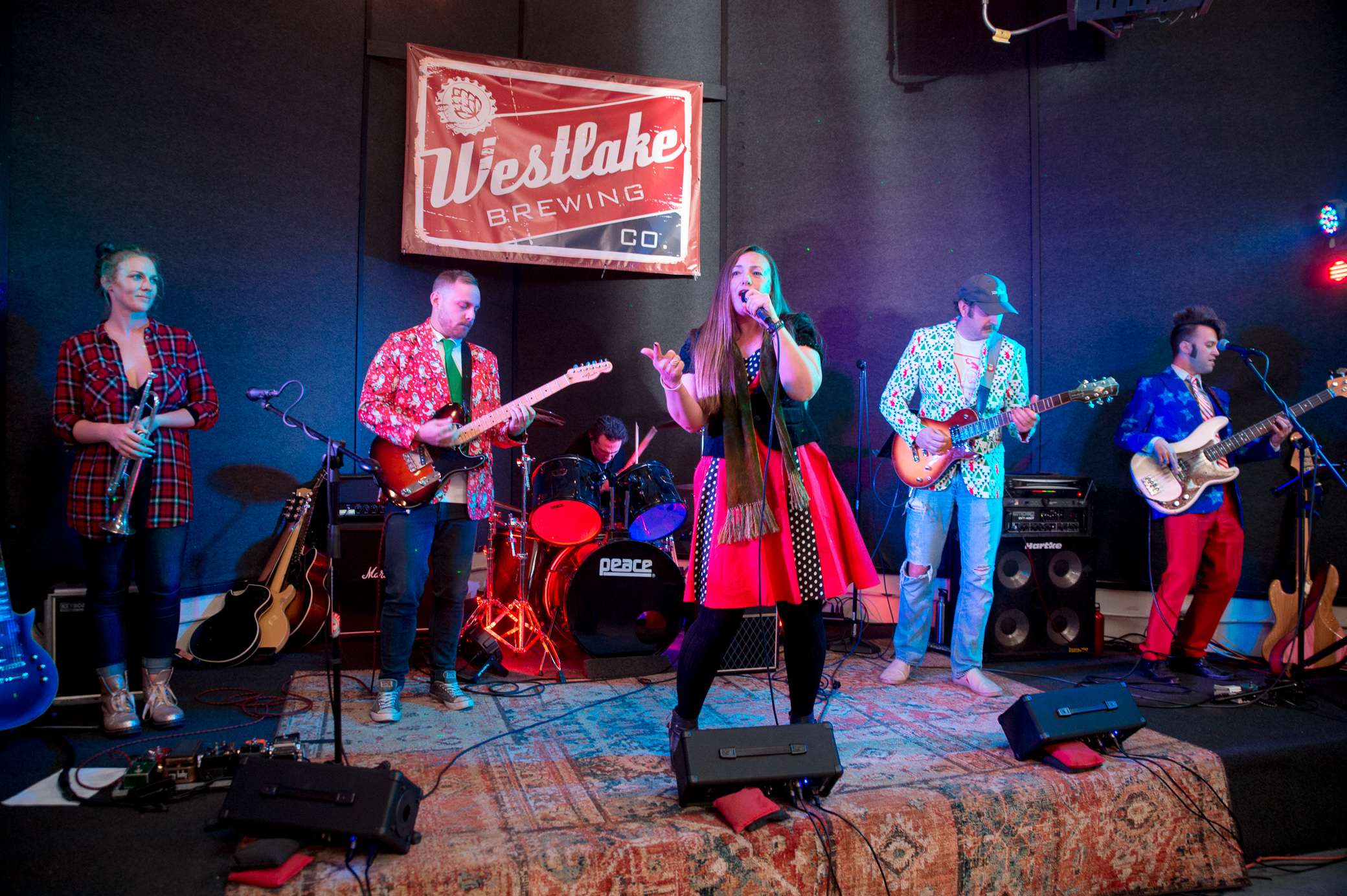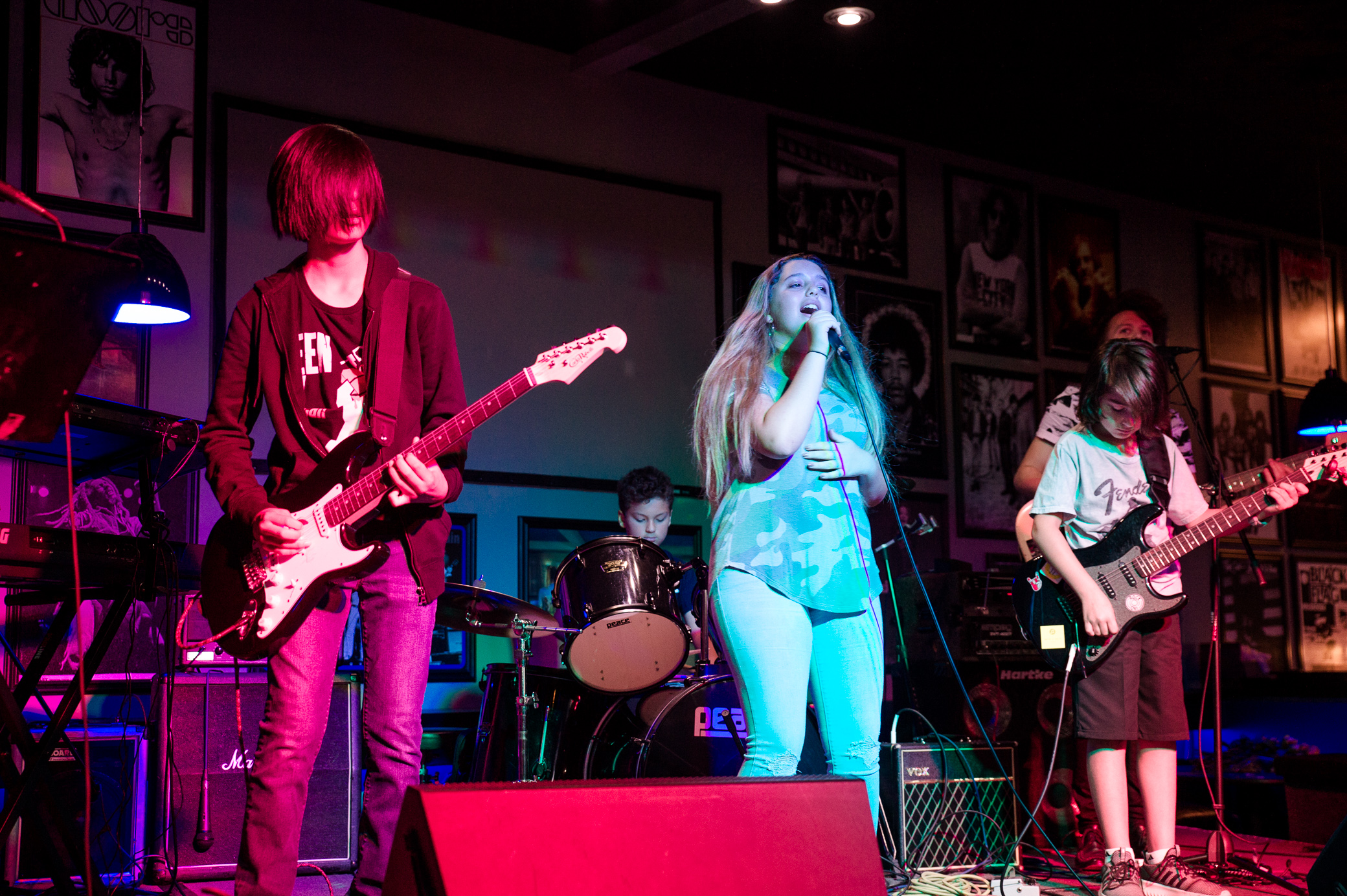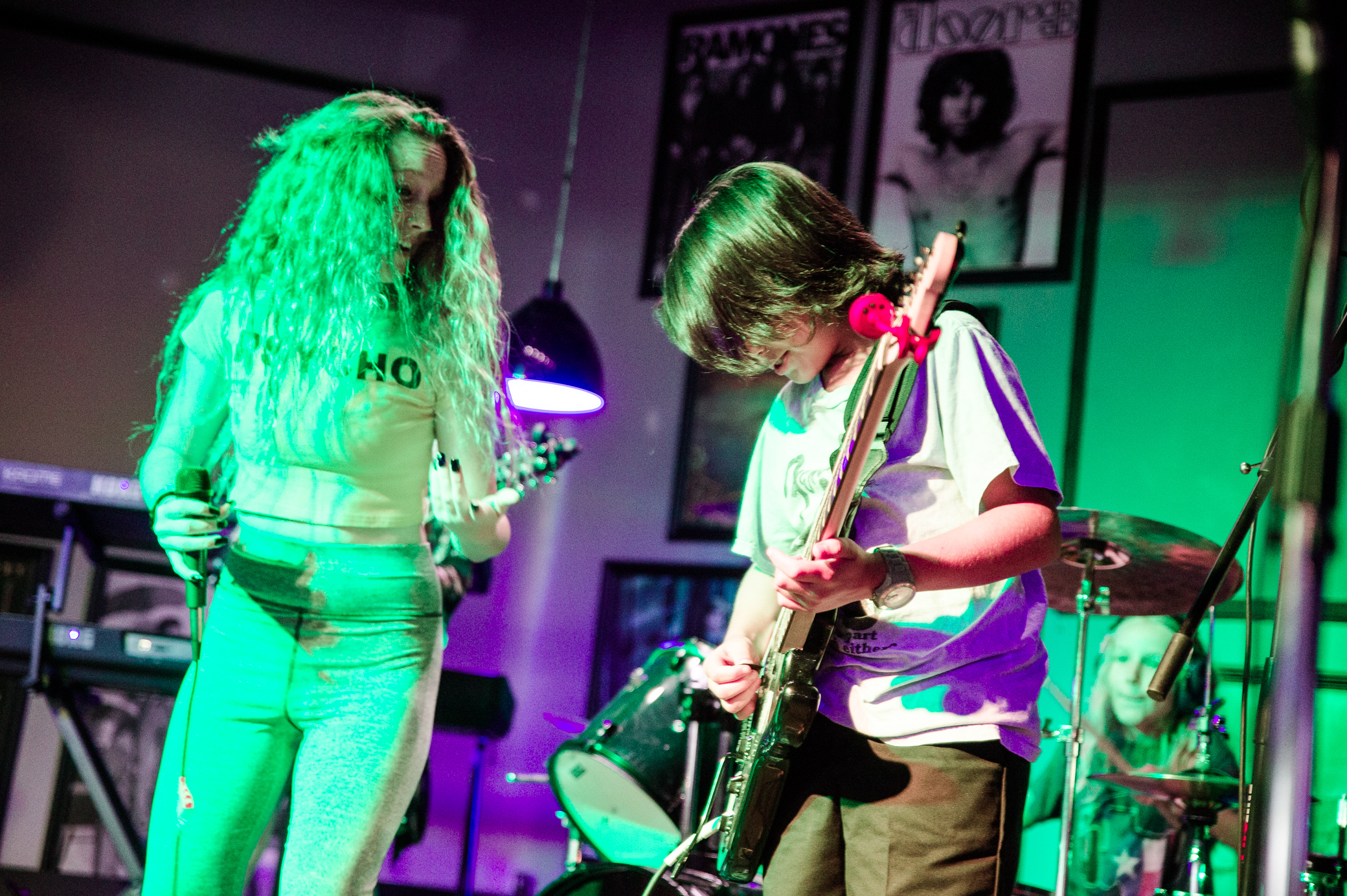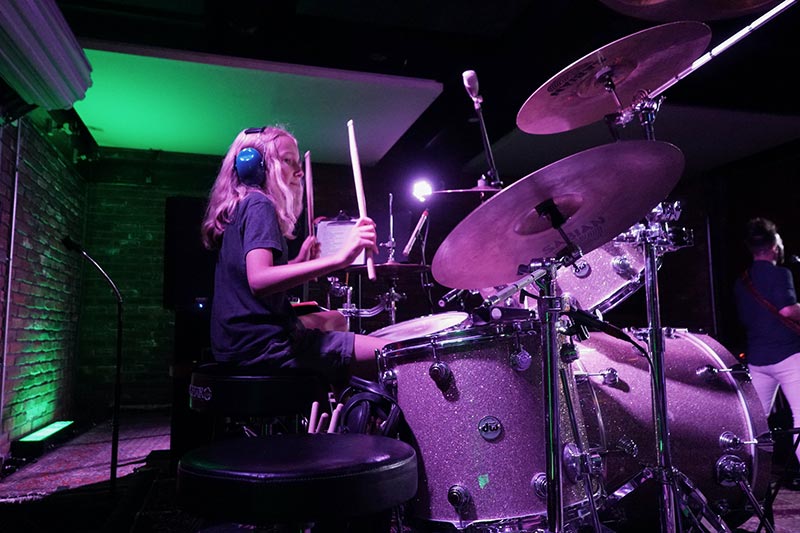 How much do guitar lessons cost??
At our West Hills music school, lesson rates vary. Rates can range from $35 to $75 per lesson. However, you can also pay for lessons monthly. Monthly rates save you money and vary from $152 to $282. These rates will depend on the length of your lessons and any tuition packages.
What is the best age for children to start taking guitar lessons?
We recommend children ages 7 years or older should learn to play the guitar. However, this is not a strict rule. Every child is different. For unique situations or to learn the specifics of our lessons, call us. Then, we can discuss your individual situation and help you find the best instructional options!
Do I need my own guitar or does SoundCheck Music School provide one?
While you will need your own guitar at some point, we can provide you with one to use for lessons if need be. That being said, in order to practice regularly at home and get better you will need to buy your own guitar. Talk to us about instrument starter packages!
Should beginner guitar players learn to play an acoustic or an electric guitar?
Theres no perfect answer, learning on an electric guitar can be easier but acoustic instruments build strength and dexterity. On electric guitar the strings are lower to the fret board and require less muscle to play.
Also, acoustic guitars can be used without an amp. Overall, consider learning to play on the type of guitar that you will play the most!
How long will it take to get good at playing the guitar?
The question is very subjective. It depends on how long your practice sessions are, if you have a natural ability to play guitar, and if you keep to a regular practice schedule.
Progress is usually a direct result of time spent practicing. To get the most benefit, we recommend having a skilled guitar teacher work out a customized schedule with each student.
Are private guitar lessons available at SoundCheck?
Yes! All of our lessons are private and one-on-one with a seasoned guitar teacher located near West Hills. Each lesson is customized for each students goals.
Does this school offer online lessons?
Choose from in-person or online guitar lessons! We can even do a mixture of the two. If you want to have one online lesson and one in-person we can arrange it!
Do all guitar students participate in the live performance or band program?
No. A student will reach a guitar playing skill level before they can start the live performance or band program.
Furthermore, we do try to get you participating in live performances and the band program as soon as possible. 
50% Off Your First Lesson
20% Off Your First 2 Months
10% Off Family, Multi-Instrument, Military & Seniors